FREQUENTLY ASKED QUESTIONS ABOUT THE BLACKBELT COURSE
Learn what it takes to become a Black Belt
in Ninjutsu/Ninpo Taijutsu even in your own home at your own pace!
This revolutionary Ninjutsu / Ninpo Taijutsu Shodan Course pioneered by Doshi Richard Van Donk, Bujinkan 15th dan senior DaiShihan, is used by high ranking Bujinkan instructors and beginning students alike with great success in over 75 countries worldwide. Seven years, 1000's of hours of research, lots of blood, sweat and tears, and almost ¼ million miles of travel in about 50 trips to Japan to personally train with Grandmaster Masaaki Hatsumi and other Shihan teachers went into providing you with this very comprehensive step by step Black Belt curriculum. There is none like it anywhere else in the world. The elite World Grandmaster Council (WHFSC) gave us the best top International Videos Award in 1999. Find out why for yourself! Train at home on your own time at your own pace!
WHY A DISTANCE LEARNING COURSE?
Simply put, authentic Ninjutsu is hard to find in many parts of the world. There are not qualified instructors available on every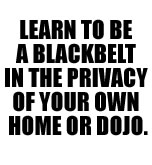 corner. The Ninjutsu / Ninpo Taijutsu Shodan Course gives people who are not fortunate enough to have a teacher near them an opportunity to study this art in a step by step manner, offers them a way to get feedback on their training, and if desired, obtain a certified ranking. From the reports of our video students this is a dream come true. The Ninjutsu / Ninpo Taijutsu Shodan Course even helps those who have a Ninjutsu dojo near them to practice the lessons at home, enhancing their training. Our students who train at the dojo and at home with the course advance at least twice as quickly. The Ninjutsu / Ninpo Taijutsu Shodan Course also creates a standard for growth and gives a new blackbelt a method for becoming an instructor themselves.
WHO WILL BENEFIT BY STUDYING THE COURSE?

 
People who want a life change, new martial art students, families or buddies who want a hobby together, those who train but want more information, to learn faster, those without instructors, instructors who want a curriculum for students, blackbelts in other arts and schools who want to add to their system, knowledge or credibility. Our success tells us that our Ninjutsu / Ninpo Taijutsu Shodan Course will give you the edge you need to become a better martial artist.
HOW DO I GET STARTED?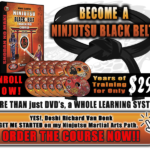 Simply enroll in the Ninjutsu / Ninpo Taijutsu Shodan Course by either purchasing the complete course at a discount or getting at least the 1st three videos, Shodan manual & a membership. This allows you to register as a Ninjutsu student by sending in your student application. Obtain through us or your local martial arts shop a black uniform with a white belt. You do not need to have tabi shoes, (some do, some don't). Over time you will need to get or make a few wooden weapons such as a knife, 3ft staff, 6 ft staff and a wooden sword. Study each move on the tapes over and over until you can do them easily just like it is on the tape. Most students take about 3 months at each kyu level, achieving their blackbelt in 2 1/2 years of dedicated study. If you are athletic or already have martial arts experience you may go faster through the levels keeping in mind that the basics are the foundations that you build your Blackbelt and above training on. This Course was carefully crafted over 7 years to give you a natural progression of material. These are REAL ranks and must be earned with very hard work and perseverance.
HOW DO I TEST FOR RANK?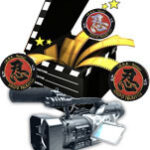 Testing is simple. Test at an IBDA dojo, seminar or tai kai. Or if that is a challenge we want you to be able to progress in the arts with us so we allow you to submit a video to us and get written strategic feedback the first Kyu levels. This process is detailed in the IBDA Membership Area.  Upon becoming a registered student we provide you with a list of what techniques to demonstrate while being filmed. Send in your video test and an upper level blackbelt instructor will carefully review and grade your skills, give you great feedback inspiring your improvements in the areas needed. You can do this for 9th kyu to1st kyu ranks. The blackbelt test Must be done in person at a semi-annual camp, seminar, tai kai, dojo or private appointment with one of our many IBDA instructors. This is a real blackbelt and we want your day to be special! Click on Rank Testing to go to that section for more details.
CAN I STUDY THE COURSE WITH A FRIEND?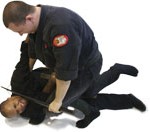 It is fun to have someone you can share this art with. Each of you will inspire each other's growth. Understanding this we designed a plan where you and a friend can share your training at a reduced price. It is all described in the Shodan training manual.

CAN I REALLY LEARN WITH DVDS INSTEAD OF AN INSTRUCTOR?
YES…. We have proven this over time (25+years) with thousands of students for all over the world. Every major university is offering online and distance learning. If you need to know how to fix something you go to a video to learn how. Forget the desenters as we have a PROVEN feedback system that works. And when you get a buddy you are hands on training with expert step-by-step instruction.
Of course having an instructor helps you and we encourage that. But instructors are often hard to find. So why wait for one. First, the DVDS are your instructor, teaching you in your home or dojo in a step by step way. You can slow motion the instructor and practice the move until you learn it. No intimidation of a class. Go at your own speed. And do it when you have the time. Second, we encourage you to find training partners or an IBDA Bujinkan school near you when you feel you are ready to take your training to a new level. For you we have created a unique and very effective written feedback system that really works. We know because it produces results! People that have taken this course are now very respected instructors. See the success stories page. http://blackbeltcourse.com/success-stories/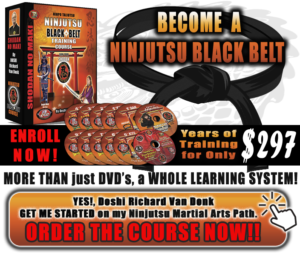 WHO IS DOSHI RICHARD VAN DONK?
We have turned out great Blackbelts all over the world.
You Can Be Next!

Others have done this. Why Not You too?


Get started Now