Black Belt Home Study Course
BRAND NEW BEGINNER? This course was made with you in mind!
The BlackBelt Course ® In Ninjutsu Distant Learning SuperCourse You will receive the newest DVD Video Version + 4 FREE BONUS. 30-Day Money Back Guarantee (Individual List price: $600.)
Your discount price: Only $379- Now Only $297.
blackbeltcourse.com
Shodan Blackbelt Course - Enroll now!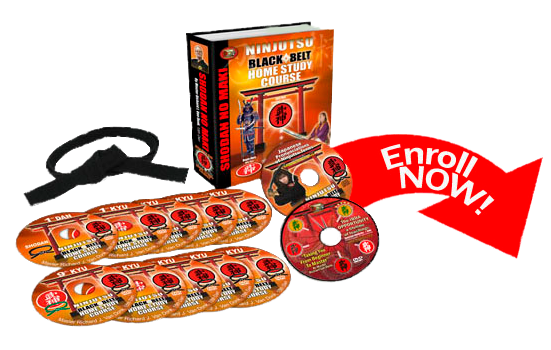 This powerful, life changing Ninjutsu BlackBelt Home Study Course created by world renowned Master Richard Van Donk, 15th dan is taught in a, "Here's where you put this foot, here's where you put the other foot, Lift your hands to this position," kind of teaching. An A-B-C-D step by step fashion.
Start simple and progress level by level as you train with each instructional video program.
Take your time learning or speed along.
You can even learn it by using it as your exercise program!
It works. How do we know? Hundreds of satisfied people from 45 countries have taken our distant learning course who had NEVER trained in martial arts before and are now Black Belts!!! Many are high level Black Belt instructors who now have Black Belt students of their own.
You'll gain master keys to unlock the natural body movement you do everyday for the martial arts you practice:
Here on ten (10) body-awakening DVD's you will learn how you yourself can personally gain the legendary ability of being a martial arts Black Belt.
You'll uncover the professional secrets of movement and self defense that enable you to:
• Defend yourself and loved ones from harm
• Move out of harm's way when attacked
• Punch with precision and power
• KICK em till they are down
• Roll on the ground comfortably
• Increase your awareness levels
• Grapple an attacker and throw them to the ground
• Develop Your Personal Power
• Become healthy and Fit
• learn WEAPONS training from the very beginning
• CLARIFY your memory, PERFORM with confidence
• ENJOY richer perception, finer life appreciation
The proof? On your very first Level 1 – 9th Kyu dvd you'll actually begin to discover it for yourself — IMMEDIATELY — with YOUR OWN Body Actions! You will amaze yourself.
Start training with us today!